This year Uproar PR brought its Orlando and Chicago offices together for a company retreat and holiday party in Orlando, Florida. The two-day retreat gave colleagues the opportunity to learn from each other through team-building activities, professional development panels and discussions. Here are some of the highlights and favorite moments from some of our team members.
Hannah Wilson, Senior Social Media Specialist
At the beginning of the company retreat, we had a chance to learn about where Uproar got its start, where the company is currently and the goals we have for the new year. When the senior leadership team took the time to explain where we came from, it made me more inspired to play a role in helping us exceed our goals in 2020. Learning about how this business was built from the ground up made me take more pride in my role here. Knowing that I work for an organization that always honors transparency makes me even more excited to come to work every day.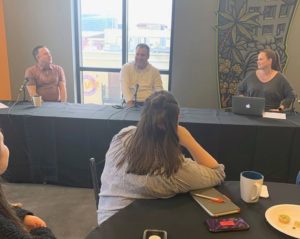 Regan Austin, Account Manager
During the company retreat, we did a networking ice breaker to not only get to know our colleagues across both offices, but most importantly, it taught us how to effectively listen to people when they are talking. It was interesting to not only meet other individuals in the Orlando office but to understand that listening is an important aspect in any conversation, whether in a casual or professional setting.
Abigail Lacaillade, Account Executive
My favorite part of the company retreat this year was hearing from current and former clients. During this session, a panel of clients were invited to share feedback with Uproar to help our teams understand what we do well as an agency and pinpoint areas where we can improve. We got to hear how much clients value the in-depth research Uproar conducts prior to kick off and how they appreciate our teams explaining the PR process. This session helped to drive home many aspects of the retreat we discussed internally including communication with clients, goals for 2020 and working with different industries.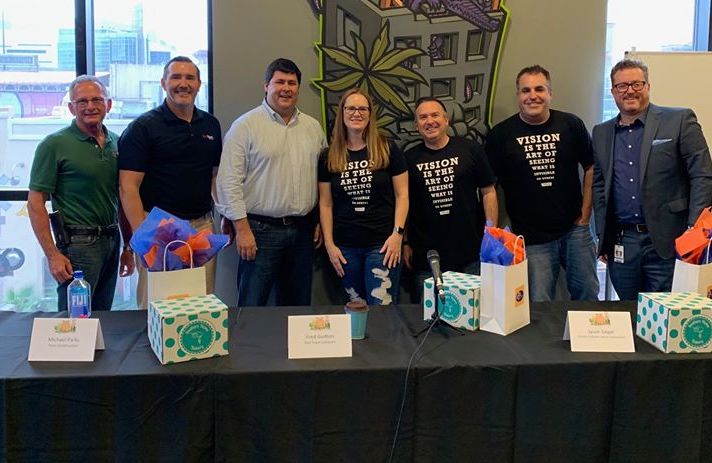 Brianna Hayes, Senior Account Executive
During the company retreat, we were tasked with a team-building exercise and divided into groups for the Marshmallow Challenge. We were provided with 20 pieces of spaghetti, a piece of string, tape and one marshmallow, we were told we had to build a tall, free-standing structure that could balance the marshmallow on top. This exercise really taught us the value of collaboration and creativity. This challenge reminds us that to be successful, we have to directly test our beliefs and take a few risks.
Our team relied on each other to build this structure – we even decided halfway through to start over and rebuild. Because we listened to each other and tried different methods before finding one that worked, we walked away with the tallest structure!
Brenna Byrne, Account Coordinator
My favorite, and one of the most beneficial, parts of the company retreat was the media panel that consisted of local bloggers and influencers, an editor from the Orlando Business Journal, a TV reporter and a radio host. As a PR professional, we work with these people every day but it's easy to lose sight of the actual person on the other end of the email. It was extremely helpful to learn more about what they look for in a pitch, the importance of follow-ups and how relationships can be formed and/or ruined. Although not all of them had the same answers to our questions, there was a general agreement that PR professionals need to make sure pitching is relevant, newsworthy and to realize there is a person on the other end of our email. Takeaways from this panel will help me as I advance my career as a PR expert.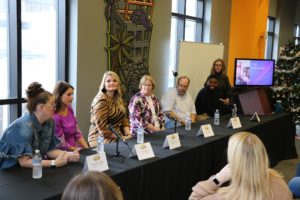 Overall, the retreat was a success – it helped build morale as we enter 2020 and aim to reach our goals. Experiences like this are just a glimpse at how Uproar invests in its employees. To learn more about our company's culture click here. Also don't forget to follow Uproar on Facebook, Twitter, LinkedIn and Instagram!