Having relationships with media is key to jumpstarting a PR campaign for any client. Uproar utilized its strong relationships with tech and VR media to introduce Arthur's VR office solution and coordinate introductory briefings with publications, like CNET, IDC and AR Post. Uproar also created news around exciting updates to the platform to help differentiate Arthur from its competitors, resulting in coverage in key VR publications, including VRFocus, Skarred Ghost, Auganix, VR Source and VRWorldTech. Following the national news cycle closely around companies transitioning to remote or hybrid workplaces, Uproar coordinated an interview with Bloomberg to position Arthur's CEO as an expert source for commentary around this trend and secured commentary in ComputerWorld and VentureBeat.
Building on the media recognition, Uproar coordinated a press conference in VR (Arthur) where more than 25 journalists experienced the VR platform first-hand and explored the virtual offices, auditoriums and picturesque landscapes Arthur offers. Uproar is constantly brainstorming creative ways to strengthen relationships with media on behalf of our clients, and this idea ensured media got a first-hand look at the VR platform and new features, instead of just another press release. Uproar continued this tactic of inviting top-tier media to interview Arthur's CEO in VR (Arthur) and demo the platform, which led to an in-depth feature in Forbes.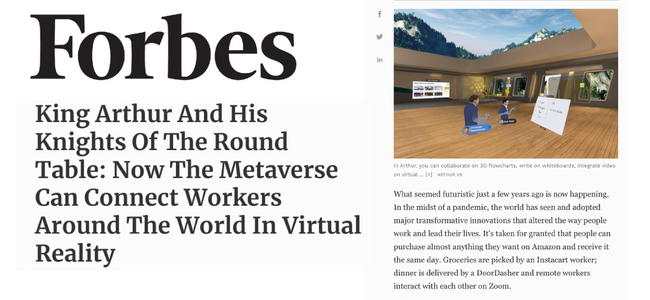 Uproar worked closely with Arthur's CEO to secure speaking engagements, podcast interviews and awards. Arthur placed as a finalist for AIXR's VR Awards, and the CEO was selected as a speaker for the Global XR Conference and panelist for CES 2022 to discuss trends in the metaverse.
Click here to learn more about Uproar PR's XR VR services.