CES is not only the largest consumer tech show of the year, but it's also always the biggest event for our public relations and social media agency. For the past seven years we've attended with our clients, there's never a dull moment between the initial planning months starting in October to the actual event itself in January!
At this year's International Consumer Electronics Show, we had 20 clients attend and eight Uproar staff members on-site to coordinate briefings, attract top-tier media to client booths and secure amazing coverage.
From launching new smart home devices to showcasing new fitness wearables and beyond, we helped our clients make the biggest splash possible.
In total, we secured over 300 pieces of coverage in Fortune, CNN, PCMag, Mashable, Popular Science, Women's Health, WIRED, CNET, USA Today, NBC News, The Verge, Refinery29, Entrepreneur, Digital Trends, The Discovery Channel and more.
We're no stranger to knowing what it takes to make for a successful CES, but this year we implemented new strategies to help our clients see their names in even brighter spotlights.
As an example, on the Sunday and Monday before the official show start, we hosted a happy hour and product showcase for press to meet our clients and test out their products first-hand. Between demos and beer, we also found time to pair up with reporters and belt out some Karaoke tunes. What a way to let loose before the madness of CES began!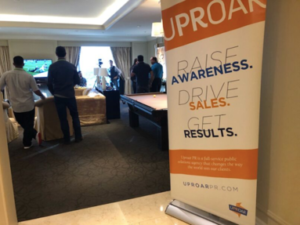 The fun extended well beyond the show in Vegas, too. To supplement our on-site CES team, we had five staff members providing remote social media support from our Orlando office.
We leveraged clients' Facebook, Twitter and Instagram channels to not only create fan-engaging content and highlight their earned media coverage – we also sought out opportunities to jump into the #CES2018 conversation and ensure the dialogue reached outside the show floor.
In the months leading up to CES, we partnered with clients to craft eye-catching social media content, contests and giveaways. We also recognized that it's key to be ready when unexpected things pop up at the show.
During this year's wide-spread power outage, we were able to work with our client to highlight their booth, which remained powered by Energizer. Their tweet about the #CESblackout went viral, reaching more than 500,000 people and receiving nearly 100 responses and 82 retweets.
Our clients received hundreds of noteworthy social media mentions by top publications including Tom's Guide, AdAge, Engadget, Inc., and more. As a result, clients not only had press stop by their booths to experience their products, they also saw their social media following and engagement rates soar.
It was through this holistic media relations and social media approach that our clients saw such extreme success. Check out our video below for more highlights from this year's show. Here's to CES 2019!