Uproar successfully announced a niche technology to the world, resulting in more than 50 articles. As a result, eSight experienced record web traffic with an 8x increase in the month of the product launch alone and a 10x increase in leads for the quarter following the launch, quadrupling sales. TIME Magazine also named eSight on its prestigious list of 25 Best Inventions of the year.
Following the product launch, Uproar continued to leverage heartwarming human interest stories to secure national TV coverage with NBC Nightly News with Lester Holt, ABC News and Inside Edition.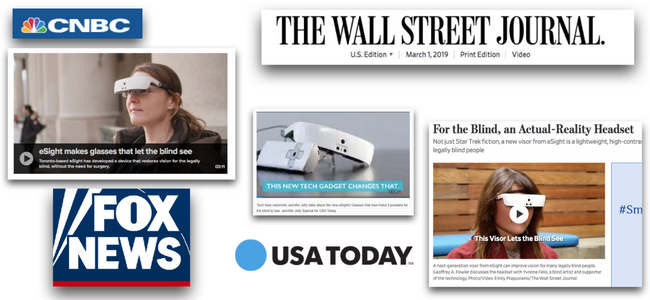 In the years since the eSight 3 launch, Uproar has also successfully introduced the eSight 4 and eSight Go. With the eSight 4 launch in 2020, Uproar leveraged its relationships from the previous launch to secure a feature in VentureBeat (1M readers), a segment on Cheddar (145K readers), coverage in Canadian top-tier tech publications, and optical and accessibility trade publications.
The best way to showcase eSight's impact is by pitching human interest stories, highlighting the unique stories of users and how eSight has changed their lives for the better to spread awareness to communities across North America. Highly visual in nature, Uproar leverages certain angles to secure coverage in local TV news. Examples of secured local stories include a 4 year-old-boy trying eSight for the first time, an 80-year-old Navy Veteran who was able to celebrate the Navy's birthday at the Augusta Museum of History, a high school student wearing eSight to his first prom and a young man biking across a Canadian province to raise funds for his device. As a result of local pitching, Uproar has secured hundreds of local TV segments on stations with millions of estimated viewership across the United States and Canada.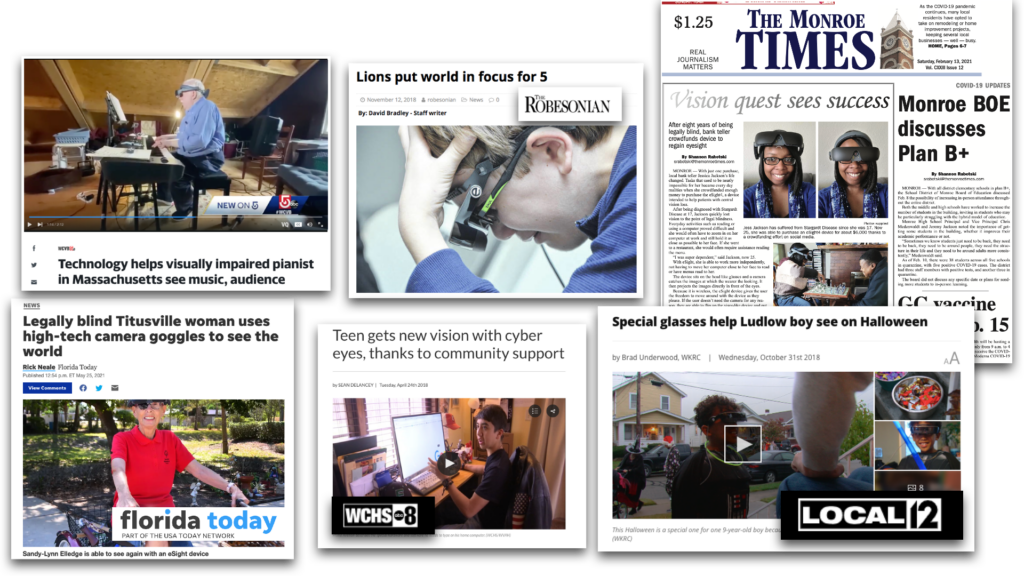 In addition to local outreach, Uproar prioritizes national coverage in top-tier online publications. For example, an eSight user was able to recreate his wedding day fifteen years later, resulting in coverage on ABC News (26.8M readers), and Business Insider (42.9M readers). Uproar also landed TV segments on NBC Nightly News with Lester Holt (50M viewers) and Inside Edition (39.6M viewers), both of which highlighted individuals trying eSight for the first time ever. As a result of Uproar's work, TIME Magazine (15.8M readers) also included eSight in a roundup of "Best Tech of 2017 So Far" – a huge national win.
In January 2023, Uproar announced the launch of eSight's newest device, eSight Go, and secured over 60 pieces of secured media. Uproar secured onsite meetings and demos with targeted national reporters from outlets such as The Wall Street Journal, CNET, Digital Trends and Voice of America. Interviews from CES were syndicated to over 35 local news markets across the United States. Uproar is currently connecting with top-tier tech reporters ahead of eSight Go's full market launch in Winter 2023.
Click here to learn more about Uproar PR's XR VR services.