Within days of the kickoff, Uproar secured high-profile placements that helped Hyperice nearly triple its original Kickstarter goal. One of Uproar's most significant successes was telling the entrepreneurial story behind Hyperice's founder, Anthony Katz, highlighting how he built a successful fitness technology brand used by elite athletes worldwide. The campaign resulted in national business placements, including a six-page spread in Inc. Magazine's print edition and online site, and features in Fortune, Fast Company and CNN Money.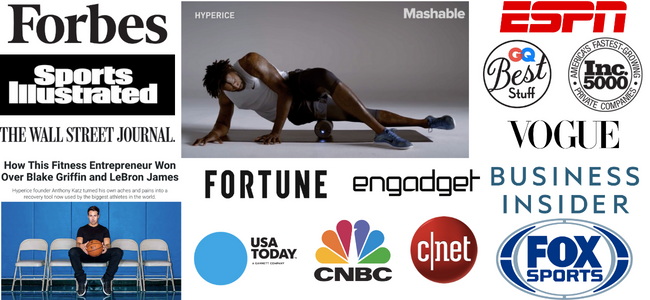 Uproar built a relationship with a reporter at USA Today, resulting in a feature story and video showing how to use the devices properly. After seeing this story run online and in print, Hyperice confirmed a massive spike in sales this day as a direct result of the story. Additionally, Uproar secured a feature story in Business Insider, resulting in a glowing review of an everyday consumer enjoying the Hypervolt device. As a continued effort throughout the campaign, Uproar worked closely with Hyperice to execute various announcements to maximize brand awareness and secured top-tier coverage, including The Wall Street Journal, Forbes, ESPN, GQ, Vogue, CNBC, Engadget and more.
Uproar continuously identifies and submits Hyperice for various awards, highlighting its products, customer service team, and CEO, Jim Huether. Every year, Uproar's most significant award task is compiling a submission for the Inc. 5000 Fastest Growing Companies Award – which the team won four consecutive years.
The implementation of Uproar's suggested media strategies for product launches, partnership announcements and business profile pieces has not only provided tremendous ROI and increased sales that are directly linked to prominent media placements but also has allowed the company to establish its name in new and emerging markets, such as eSports and workplace wellness.