Uproar researched and developed creative lifestyle story angles to boost awareness of Pushpay. One of these creative story angles leveraged top Christmas song data from Pushpay's Church Management System.
Uproar's pitching efforts resulted in coverage in top-tier publications, including GeekWire (1.23M total monthly readers), Puget Sound Business Journal (10.4M total monthly readers), Fortune (5.4M total monthly viewers) and Dallas Business Journal (10.4M total monthly readers), with multiple syndications to MSN (883M total monthly readers) and NewsBreak (13.2M total monthly readers).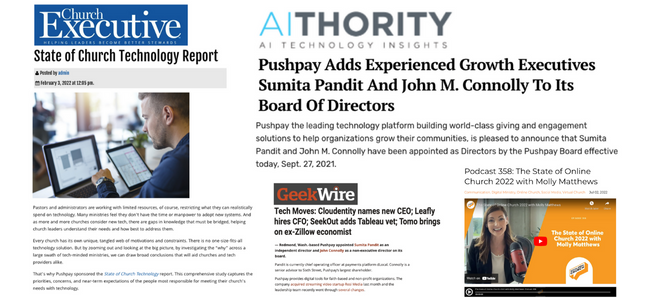 Uproar conducted ongoing efforts to position Pushpay's CEO, Molly Matthews, as a thought leader and build her executive profile by developing speaking platforms including being a female in the tech industry, how to effectively maintain company culture and more.
In August of 2021, Pushpay announced its acquisition of video streaming company Resi Media. Uproar drafted and distributed a press release to support the announcement and conducted pitching to targeted verticals within the tech, business, faith and local spaces.
Uproar continued to drive visibility and brand awareness for Pushpay by announcing company awards and accolades. Uproar drafted and distributed press releases announcing Pushpay's rankings on the Deloitte Technology Fast 500 List and in Seattle Business Magazine's 100 Best Workplaces in Washington List. In addition to the releases, Uproar pitched the news to reporters across local Seattle media as well as reporters at national business, technology, and workplace/HR outlets.